Concrete Decor: Sandy Springs' Best Decorative Concrete Company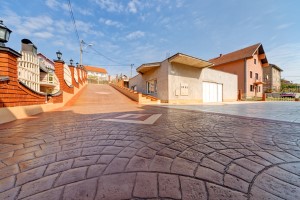 If you are a business owner in the Sandy Springs area who is looking for a way to improve the visual appeal and overall function of your commercial space, then you have come to the right place. Here at Concrete Decor, we are the premier Sandy Springs decorative concrete company, and we can provide you with the high quality decorative concrete and concrete staining services you need to bring new life to your old, plain concrete floors. Are you looking for a professional Sandy Springs decorative concrete company who can help you to improve the visual appeal and function of your business space? If so, give our team of skilled professionals a call today and let us show you the kind of quality service that has helped to make us one of the most trusted names throughout the Sandy Springs area.
Here at Concrete Decor, we understand the difference that a high quality decorative concrete floor can have on your business space, and we are prepared to do everything in our power to ensure you get it. We offer a comprehensive line of quality concrete flooring services to ensure you have access to the high quality options you need, including decorative concrete, concrete staining, concrete polishing, and even epoxy coatings. If you have any questions about our full line of quality decorative concrete services, or if you would like to schedule an appointment for consultation, give us a call today. Our team of experts are standing by and would be happy to assist you.
Decorative Concrete In Sandy Springs
As a business owner, you want your commercial property to stand out from your competitors, and there are few ways that can accomplish that goal like a brand new decorative concrete floors. Here at Concrete Decor, our team of skilled professionals can work with you to create a unique decorative concrete flooring solution that is sure to leave your customers, employees, and competitors alike in awe, providing you with an elegant, beautiful flooring solution that is completely unique to your business.
Recent Articles
How to Care for Your Stained Concrete
Stained concrete can make your Atlanta home or business look stunning and unique. Of course, like any installation worth getting, your stained concrete isn't exactly "set it and forget it." Rather, it will take a little bit of care to keep it looking and functioning its best. Luckily, the care is simple […]
Read More
3 Ways Polished Concrete Will Ease Your Home Life
You'll spend the majority of your time in your home, and that time should be nothing short of completely enjoyable. And a great way to make your home time every bit that enjoyable, consider getting polished concrete for your flooring. Polished concrete can benefit your home and ease the time you'll spend in it in a number of ways […]
Read More
If you are looking for a Sandy Springs decorative concrete company then please call 404-242-0047 or complete our